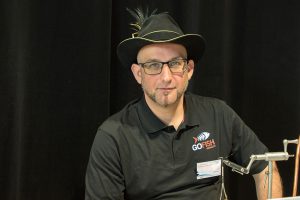 My name is Heinz Zöldi, I was born in 1978 and have been married happily for 16 years. I have two children: a 14-year-old son that is also very interested in fishing and a 15-year-old daughter that likes to tie flies with me. She is already very proud of her own tying vise!
I am very interested in knives and the steel they are made of. I started a collection when I was young and have since collected knives from all over the world. This collection and interest caused me to take an apprenticeship at the biggest weapon wholesaler of Austria, where I worked with guns and other equipment. After my apprenticeship I worked for various jobs but always had my passion for tying flies.
Making short trips thru Austria is one of my favourite hobbies that works well with this job. Visiting the regions where wine is made in Austria, are my favourite destinations. Austria is a very small country and I live in the middle of this beautiful place near the city of Salzburg, where I was born. Salzburg is the place the world-famous composer Wolfgang Amadeus Mozart was born in 1756. But you may know Salzburg from the movie "The sound of Music". Despite its popularity abroad, virtually no one in Austria – not even in Salzburg – has seen the movie. But thousands of tourists visit Salzburg because of it every year. Salzburg ist also the fourth biggest town in Austria with the river 'Salzach' running through it. In ancient times a lot of salt was shipped on this river. The first part of the river's name 'SALZach' and the first part of the city name 'SALZburg' originate from this resource. The German word for salt is "Salz". A few kilometres from Salzburg is a salt-mine, and this salt was sold to all over Europe. As you can imagine, this brought a lot of money to Salzburg, precisely to the Arch-Bishop, who was the regent in Salzburg.
Salzburg is surrounded by many beautiful lakes and creeks, which makes fishing very popular in this region. That includes fly-fishing. The primary fish are brown trout, rainbow trout and grayling, but also other fish, like pike or barbel, are caught with the fly in Austria. I have fished in many rivers and lakes in Austria, Germany and Slovenia. Creeks like Lammer, Koppentraun, Weiße Traun, Soca, Unec are just a few names.
I originally started fishing at age 6 and I can still can remember the first fish I caught on my own. It was a little perch, but big enough for taking it home and cooking it. It was delicious! I imagine all fishermen still think that their first fish was the best tasting one – I certainly think so. Back then my dad and I were fishing nearly every weekend which was a great time.
You may now wonder when and how I started tying flies. This is how it all started:
One day, I was a little boy, I decided to make a fishing lure by my own. I wrapped some wool on a hook. And this was the day I started with fly tying. I wasn´t able to fish with a fly-rod at this time, but this wasn´t important for me, at this moment. I loved to make this kind of lures – and I tried to get better. At first it was hard. I had no vise and no tools and I had nobody else to train with. But I practiced and practiced and gradually became better. Unfortunately, I do not have any flies from this time and it would be great to look back and see my progress from the start. So if you start with fly tying: Keep your first self-tied flies.
On a Christmas evening shortly after my parents gave me a fly tying starter kit, and a book with many patterns. But the kit did not contain instructions about how to use the tools, start or finish a fly. So I tied some really strange and funny looking flies, without the tools I got. I tried to get some dubbing on my thread and fixed some feathers on the hook, but this is how I started.
In the 1990´s I was fishing in Slovenia many times. These were really nice fishing trips with my father, who is an enthusiastic fly-fisher! During one fishing trip in Slovenia, I think it was in 1991, I learned the basics of fly tying, and was infected with the virus. A VHS Video from the famous Austrian fly tyer Roman Moser, helped me improving myself. All the rest was learning by doing and making a lot of mistakes too. For the younger readers and fly tiers: There was no Internet!! Just the fight man versus fly…
I´ve started to tie big flies and streamers and during the years they got smaller and better. Today I think it´s easier to learn several techniques, because of the internet, and it´s possible to become a great fly tyer in two or three years.
Then I´ve tied a lot of dry flies, because I fish 99% with dry flies. I´ve tied patterns like "Red Tag", "Ginger Quill" or "Royal Coachman". Also nymph patterns for my father, because he´s fishing 99% with nymphs. Patterns like "Hares ear nymph" or "Pheasant tail" were, and are still, effective patterns for trout and grayling. Then I´ve tied not one fly for a few years, other things like going out with friends, were more important for me at that time. One day, I saw a realistic nymph in a magazine and I thought: "I must tie a fly like this!" I started to tie and after a few tries, I made my first realistic looking fly. I tried a lot and was never satisfied how the flies turned out.
I should note that I am never satisfied with my flies. I always try to improve myself. When I look at a fly, I´ve tied 2 years ago, I always have to grin a little bit. For me fly tying is a kind of art. We live in a time, nearly everyone is called an artist, when he´s able to hold a brush or a pencil in his hands. So I think it´s ok to call fly tying as art.
I hope you enjoy my flies, which you also can see on Instagram or Facebook. My name on Instagram is NORICUM_ART_FLIES.
Have a nice day, tight lines and greets from Salzburg/Austria! Maybe we´ll meet each other at one of the beautiful creeks in Austria!
HEINZ ZÖLDI