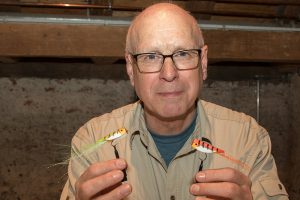 My name is Theo van de Poll, born in 1957 in Groesbeek (Netherlands), a small village near Nijmegen.
I have been fishing since my childhood, and I became acquainted with fly fishing in 1978. Since then I have mainly been fishing with the fly. I have fished in the Netherlands, Belgium, Germany, Denmark, Ireland, and Australia.
In the Netherlands my preference is to fish for predatory fish (Pike, Pike-perch, and Perch) and winter fishing in the harbours around the IJsselmeer. However, the best fishing for me is fishing for sea trout, for which I regularly travel to Denmark. I am also active at the Dutch Fly Fishers Association (VNV) where I took on the coordination of the First Dutch Fly Fishing School. I am a certified casting instructor and instructor at the Fly Fishing Academy (FFA).
In addition to fly fishing and fly tying, I like to make my own furled leader and often shown at fairs how to make them. I showed this at the EWF 2017 and 2018.
At the Bending Feathers I like to show which flies I use for fishing for sea trout in Denmark and how I ty them.