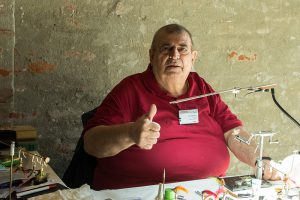 Thodor (Theo) Atanassov was born in 1946 in Varna, Bulgaria, which is situated on the coast of the Black Sea.
Theo has been addicted to fishing since his early childhood and during his travels as a professional musician, Theo was able to fish many of the earth's waters.
Theo has been living in Berlin, Germany, since 1976. In the latter part of the 1980s, he began to focus on fly fishing and also began tying
For many years, Theo only tied as a hobby, until people began to ask him to exhibit his flies at trade shows and fly tying events.
His ambition awoke when he won first place at a competition organized by a local retailer in Berlin, Angelsport Eggers.
Since 2004, Theo has been a regular participant at Aquafish in Friederichshafen, Germany.
In 2005, he demonstrated tying techniques at the Fliegenfischerforum (Fly Tying Forum) trade show in Bad Berka, Germany.
In October 2006, Theo was invited to Milan Wutte (Alpen-Adria-Fischerei) in South Kärnten, Austria together with Werner Steinsdorfer, Hans-Jürgen Baum, Karl-Heinz Kaulig and Jupp Verstraaten. Here, they spent a few wonderful days fly fishing during the day and tying in the evenings.
In April 2007, Theo participated as a tyer at the EWF (Erlebniswelt Fliegensischen) at the Schloss Pertenstein at the Chiemsee in Germany. Here, Theo was in charge of organizing and running "Fliegenbinden für Kinder" (fly tying for children).
And in 2006/07, together with Jupp Verstraaten, Theo was invited to tie at the in-house exhibition of Wolfgang Fabish on the Pegniz.
Theo has been a member of the club Fliegenfischen Fario e.V., for many years, where he has held various fly tying courses for both beginner and advanced levels.
I look forward to seeing many colleagues and friends at the Bending Feathers.