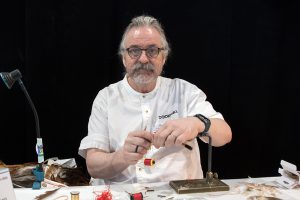 Skúli Kristinsson was born and raised in Iceland and now lives in the beautiful countryside about an hour outside the capital Reykjavik. There he runs a guesthouse together with his wife: Sel Guesthouse (look it up on Facebook under the same name) mainly focused on fishing. In the area there is both lake and stream fishing. Skúli and his wife also have their own beat on the River Brúará.
Skúli has spent most of his adult life within the fly-fishing business, beginning in 1979. At first that was fishing for trout in lakes with a few days of salmon fishing a few times a year. In 1988, Skúli got a job as river keeper for the Elliðarár, a river that flows right through central Reykjavik. Since then, his whole life has been about fly fishing, from guiding and being a professional angler to camp manager and now having his own business.
At Bending Feathers, Skúli will demonstrate his favorite tube flies and smaller flies for salmon fishing.