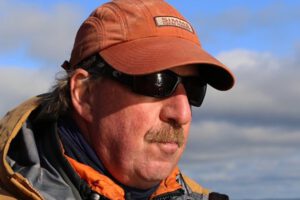 I was born on the 20. January, 1961, and obtained my diploma as a Freelance Photographer at the Photo Trade School in Apeldoorn (NL) in 1987. In May 1992, after working for thirteen years at a gardening company, I started my own business as a freelance photographer and author.
My everyday work now consists of taking pictures of products for catalogues and magazine columns, writing articles, making recordings of shows, giving workshops on fly casting and fly tying, giving fly casting demonstrations at different shows in Europe, making recordings at weddings, etc. Since January 1992, I am the co-ordinator for fly fishing and news editor of the monthly 'BEET Magazine', that is brought on the market by Publishing House in Arnhem (NL).
At the offices of several magazines in Holland and abroad (as well as at my own address), I have situated large stocks of slides and digital pictures, with a great many topics around sport fishing as subjects. These pictures have been used for many publications in fishing magazines in a great number of countries including Germany, the UK, and the USA.
These days I will fish with the fly rod for any fish that is willing to take the fly. From roach, rudd, bream, carp, ide, sea bass, etc. in the Netherlands up to blue shark in Ireland, payara and sardinata in Venezuela, tarpon and snook on Curaçao and St. Maarten, steelhead in British Columbia, seatrout in Denmark; the possibilities are endless. One of my firm favourites is to fish with streamers for pike in autumn and winter.
I am also Master Flycasting Instructor with the EFFA, a European organisation of instructors in fly casting. In early 2016, I started my own fly-fishing blog with news and articles from across the world on fly-fishing.
At the Bending Feathers, I will in particular tie streamers for pike, pike-perch, and perch.