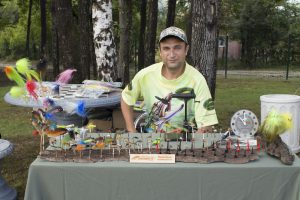 My name is Rosen Velev and I live in Ruse, Bulgaria, at the Danube River bank. Since almost 20 years now, I have been a fly fisher and the proximity to the big river predetermines my passion to streamer fishing. I have been tying effective patterns for predators for a long time.
Since 14 years now, I have every single year been organising "The Bulgarian National Fly-Fishing Fair", where so many foreign tiers from the EWF were. I love to fish everywhere – trout and predators in Bulgaria, grayling in Bosnia, saltwater species in Greece, the queen of the fresh waters – Hucho Hucho, salmon in Scotland, salmonids in Austria, saltwater predators in Florida…
Fly fishing is not just a hobby or an obsession, it's a way of life. Every single year, we meet with so many foreign friends at the biggest fly fair in Europe – the EWF, as I hope to do so also at the Bending Feathers event this November.