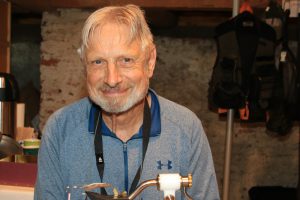 Born in 1949 in the Bavarian Forest. My great desire, from earliest childhood, was catching fish in creeks, still clean and full of fish at that time. This desire was strengthened by the stories of my uncle from Straubing, who fished in the Danube and in his own gravel-pit lakes where he also allowed me to fish on occasion.
Many years later, after a vacation in Ireland, I decided to get my fishing license and join a fishing club which would allow me to fish in the Amper. This led, logically, to fly fishing and fly tying which became passions which have never left me. I found, from the beginning, fly tying particularly fascinating and contact with terrific fly tyers helped me to expand my abilities quickly.
Visit me at my tying bench – I will be very happy to meet you!