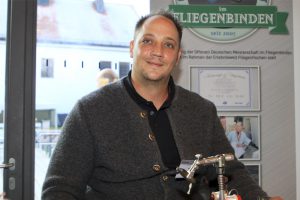 My Name is Raimund, I am 35 years old. I live and work in beautiful Munich.
Thanks to colleagues and after 10 years of abstinence from fishing, I returned to the water's edge. Very soon thereafter, the thought of obtaining a fly rod resurfaced. Seeing as how fly tying always interested me, a simple tying vise (which I still use) and some tying material followed. With the help of books, YouTube, and friends, the first usable flies landed in my fly box. Ever since, the tying virus hasn't left me. I gladly provide help and advice. On occasion, my flies land in the boxes of others. For the past few years, my calendar also includes various fly tying competitions.
When I can get free from work, I can be found in the Bavarian Oberland, Franconian Switzerland, South Tirol, or Austria.
I am happy to be tying at the Bending Feathers, to make new acquaintances, and to see old friends.
Happy Tying,
Your Raimund