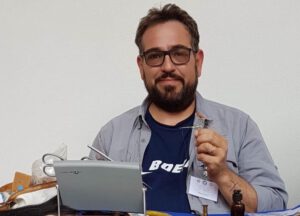 Have you ever seen someone tying flies in hand without using a vise and tools? No? Then you can't miss the opportunity to come and see Piero Sistino at work!
He cultivated his passion for fly fishing from the age of 12; he started fly fishing with three wet flies tied with a wool body and a turn of partridge. The beauty of plumage and silks led him to become passionate about the construction of lures at 360 degrees, up to deepen the study of classic salmon flies, which in the Victorian era were made without the aid of vise and bobbin, in hand (Blacker, Tolfrey, Francis Francis, Kelson, Hale, Tannatt…).
SSince 2018, Piero is the owner of the KOPTER FLIES Company which offers high quality Made in Italy fly tying tools. He participates in the most important international trade fairs and events in the sector (IFTS, IFFS, ASFI, BFFI, SIM FF, EWF …), where it combines the passion for construction with the presentation of its excellent products. In June 2022, Piero has been elected as best Italian Fly Tier of 2022.
Have a visit to his tying bench to savor the taste of ancient flies and to, why not, test the KOPTER FLIES products with your own hands.