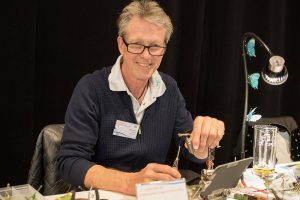 Peter Kunz, Schöfflisdorf, Switzerland
Besides Ice hockey, flyfishing has been my great passion since my boyhood. In fact, it was an ice hockey friend who showed me how to use a Flyrod as early as 1980. I was instantly hit by the flyfishing virus which never left me. In the following years, I underwent several training courses aiming at constantly improving my casting. At the same time, I started to tie my own flies.
Fly rod and tying case have become indispensable companions on my various travels. In Gmunden, Austria, I had the chance to acquire important knowledge from the "Traun-Cracks". It is there that I got acquainted with Hans Gebetsroither whom I still remember as the man who with his cane shoved my line hand into the right position. In Slovenia I was lucky enough to meet Marjan Fratnik who showed me how one can tie a fly in a simple manner without a vise.
Since quite some years, I spend the summer months in the Yukon Territory in Canada. Fishing in this endless vastness, in crystal clear streaming waters, in fascinating lakes, all rich in fish, it is a dream come true. Of course, at the same time I also discovered the joy of canoeing on wild rivers. What a thrill and a challenge to be on the move with canoe, tent and flyrod in harmony with nature and wildlife of the Canadian North, out for new adventures.
As a fly tyer more than ever I engage myself in finding new ways of creating lifelike terrestrials. This is quite challenging and leads often to surprising catches.