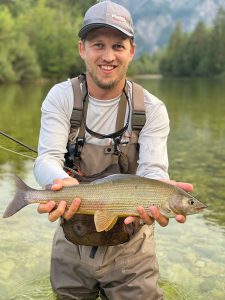 My name is Marc Schweizer. I am 33 years old and live in the Bernese Oberland in Switzerland.
I have been involved in fishing for as long as I can remember. For the last 10 years, I have been fishing
exclusively with the fly. During my holidays, I have travelled to various international fishing destinations
and caught various species of fish. My favourite fish are trout and grayling.
Since the beginning I have been tying my own flies and have refined one or the other pattern
for my own purposes. The attraction of developing new patterns, as well as the creative use of
different materials has enthralled me from the beginning.