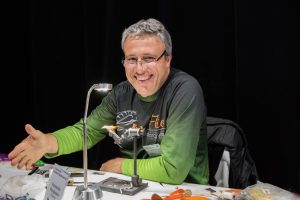 My name is Konstantin Marinov Karagyozov and I was born and live in Plovdiv, Bulgaria. I began fly fishing around the year 2000 and it is the only type of fishing I have practiced since then.
For the first couple of years I fished only for chub in local rivers and ponds, but after I discovered trout fishing it became my passion. As a co-founder and chairman of our city's fly fishing club, "Mayna Fly," which is part of the Bulgarian Fly Fishing Federation, I actively participate in almost all events and competitions in Bulgaria. I also participate in environmental protection efforts including brown trout preservation in Bulgarian rivers.
Fly fishing is not just my hobby, but an important part of my life. I love fishing for brown trout in mountain rivers using nymphs, dry flies, and streamers. Dry fly fishing is, however, my favourite.
I'm a very enthusiastic and keen fly tier. Tying flies brings me much joy and satisfaction and that includes tying flies both for fishing and as an art. I tie all types of flies except salmon flies. I'm not a professional fly tier, but do fulfill special orders at a client's request.
Fly fishing and fly tying give me the opportunity to be part of a worldwide society of keen and enthusiastic people and to share the passion and joy of our sport with them.