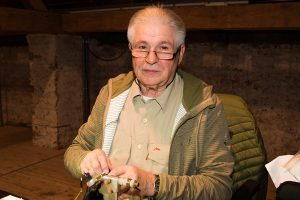 At the age of six, Hans-Jürgen caught his first roach in the Rhine River and from that day on, there was no looking back – he spent every spare minute he had, fishing. At the age of 12, Hans-Jürgen got his fishing license and spent a lot of time in his club, the ASV Kamp-Lintfort.
At the age of 40, Hans-Jürgen started fly fishing. He and his family vacationed regularly in Austria near the Gail River, where one was only allowed to fish with a fly. His first experiences were horrible – his fly spent more time caught in the grass than floating in the water. As a result, Hans-Jürgen went on to take a casting class.
Hans-Jürgen was also interested in fly tying, and in particular, to catch a fish with a fly tied by oneself. As everyone knows, once you start there is no turning back, which still holds true today. Fly tying has become and will remain Hans-Jürgen's primary focus now and in the future as it allows one to be very creative. Hans-Jürgen has participated in various events and exhibitions where he has demonstrated his tying techniques to a wider audience, such as EWF, Jagd und Hund, Aqua Fisch, Angeln-Messe-Duisburg, as well as at in-house exhibitions at various retailers.
Hans-Jürgen has met many amicable people as a result of fly fishing. Even if he only meets someone once a year in person, one always stays in touch and that is something he truly appreciates.
Hans-Jürgen hopes many fishers discover fly fishing, because it is not only the fishing itself that makes it worthwhile, but also the social aspect it offers and the different perspective on nature it provides.