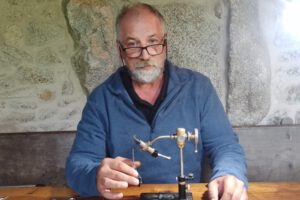 My name is Joaquín López Quintás and I was born in May 1960 in La Coruña, Spain. I have been an angler since the age of eleven, a fly fisherman for 46 years and a fly tyer for 44 years.
As a guest fly tyer, I have participated in numerous events in my country. I have participated in several international tying competitions; worth mentioning a second place in the realistic category in Munich – Germany (2018), 1st place in realistic tying and absolute winner in Slovenia (2020) and 2nd place in realistic flies in Slovenia (2022).
I am an avid tyer who loves to discover new realistic tying patterns. Painting and drawing are other hobbies of mine.