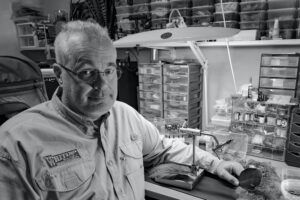 I live in Britany in the west of France and am 59 years old. I have been a fisherman for 50 years and at the fly for 35 years.
I am a fly tyer since 35 years and a classic salmon fly tyer since 30 years.
For 14 years, I have workd in the company RAGOT and I was in charge of fly fishing and fly tying. Since 2008 I work in the company ARDENT PECHE as responsible person for fly tying and fly fishing.

I have specialized in the tying of trout flies with hare fur, dry flies, wet flies, emergent flies and nymph flies.
My preferences in the traditional flies are the flies of creations. I like it very much to find new shapes, use new colors and I never tie the same fly twice.
I was born near the river Allier centrally located in France. In the past, this river was very rich in salmon and other kind of fish and was a paradise for fishermen. However, with political indifference and misguided hands of human nature, man has ruined this river.
My first fishing endeavor, when I was a lad of 5 years old, was with my father who had a real passion for fishing. In this era, fly fishing was very elitist and very secretive. These elitists now realize that they were doing more harm than good to their fellow fishermen.
My father was a baker in a small village of L'Allier and his working hours were not conducive to fishing. His favourite time to fish was from mid-July to mid-August. During this brief period of fishing, he pursued small bait fish that were plentiful in the river L'Allier. To pursue these bait fish we used mayfly nymphs, which we would gather in the riverbed.
A friend called one night a few years later and said he had purchased a fly rod and gear that went with it. The next day my friend and I tried to figure out how all this equipment worked. After one hour of frustration, we were both discouraged, and my friend was starting to regret his investment. We were on a beautiful stretch of water that was very favourable for fly fishing. By chance mayflies were starting to hatch all around us on the water. As luck would have it, one of my casts was miraculously gobbled up by a big fish. From that moment on, like a bolt of lightning, I was hooked forever into this sickness called fly fishing.

The following week after breaking my piggy bank, I too was well equipped with all the necessary gear to be the perfect fly angler. Within 3 days I had mastered the forward cast enough to be successful in catching fish to keep me motivated. In the river L'Allier, I was catching the resident white fish and small bait fish that are still abundant in our river. All my success happened just as the trout season was ending and it was with impatience and anticipation that I was waiting for the next trout season.
I am a self-taught fly angler and fly tier. As much as I tried to ask for help and to learn all these secrets, it seems that everyone was very secretive of what they knew and would not help me. I got my revenge a few years later. I was so hurt by this stupid behaviour that I went out of my way to help newcomers and anyone else who needed my help. I would have no secrets.
I have seen at fly tying shows, tiers that were hiding their work and only showing the finished products. My pleasure was to show all the secrets and intricacies of fly tying. Accomplished fly tiers would throw their flies at me, dare me to reproduce the same fly, and I would do it correctly and swiftly. All of this silliness ended when I started winning several national fly-tying competitions.
Of course, I was always lacking quality materials. It was a common sight in the village to see me chasing after roosters with a fishing net. I raided all the local chicken coops, but it was not always appreciated by my countrymen.
My passion for classic salmon flies is due to their beauty and complexity, but my biggest difficulty was to find quality materials. In the beginning, I read and studied Judith Dunham's book and was especially mesmerized by the flies of Wayne Luallen, Marvin Nolte and Ken Sawada. Spending hours trying to understand the intricacies of their flies. Like all beginners, I thought that I could never figure out their secrets, and without having these secrets, I would never be able to tie like them. I figure out months later that the only secrets consisted of practice, practice, and more practice, and also having good quality materials.
My first book on salmon flies was by Poul Jorgensen which helped me along with my tying. The hardest part of tying salmon flies is setting the wing. Spending hours upon hours learning to set these wings was like a revelation when I finally got it right. In the beginning I tied mostly with goose shoulder but found them very short and flimsy, and swan was impossible to find. Discouraged, I was losing interest in tying flies because of these materials. But one day at work, I stumbled upon an old stock of turkey tails. This turkey was high quality and permitted me to tie large 6/0 and 7/0 flies. To my knowledge, turkey tails are the premier winging materials for salmon flies. I learned to dye materials and was able to obtain all the colors of the spectrum. Finally, being able to possess a wide range of materials, I could now let my imagination create new flies.
I am not big on tying classic style because I always lack one or more of the proper materials. My style is more creative, and I have a hard time understanding those that just tie classic styles. Due to my creativity, I have been able to develop my own technique. Every fly I tie is one of a kind and unique. Never tying the same pattern twice.
In 1998, I met Daniel Dufour and was flabbergasted by his creations. I was able to spend two weeks fishing and tying with him while on vacation. He taught me a method consisting of multiple wings, including flies of up to 400 married fibers. Daniel prefers goose and I prefer turkey, which shows that each tyer has their own style and materials preference.
In 1991, I won my first competition for tying salmon flies and, because of this, was able to fish in Ireland. In 1994, 11 of my colleagues and I were able to go fishing in Guinea Bissau. A fantastic voyage in an environment abundant in many types of fish. In 1996, I was invited by the organizer of the Mustad Open Scandinavia fly tiers to demonstrate my ability and to fish the fantastic Glomma and Rena rivers.
In 1998 on my trip to Quebec, I fished the Matapedia and the forks in Causapscal over salmon that weighed up to 50lbs, but because of low water condition, the results were disappointing. That same year, I participated in the Fly Fishing Symposium in New Jersey.