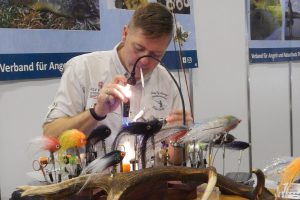 I was born in Lichtenfels in 1976 and grew up in a small village in the countryside. Today, I earn my living as a department head at Coburg University of Applied Sciences and Arts.
When I was 10 years old, my father took me fishing for the first time. As was customary in those days, my father fished for carp and the like with worms or canned corn.
I found this hobby very interesting and took my fishing exam at the age of 14. At that time, I only knew something about fly fishing through magazines. At the age of 24, fly fishing crossed my path and I was fascinated. I took a beginners' course in Coburg – now I was hooked. I was so enthusiastic about this kind of fishing that I sold all my other equipment and from then on fished only with the fly. Since as a beginner I still had big losses with the flies and the procurement also cost a lot of money, I now began to tie my flies myself. I acquired the necessary information and expertise myself with the help of relevant specialist books and magazines, as there were no tying courses in our area.
A good friend advised me to take part in a tying competition. And so it happened that since 2005 I took part in national and international tying competitions in Germany, Austria, Slovenia, and Norway. This way I learned to tie with many different materials and techniques. I was able to pass on this knowledge at tying demonstrations at in-house fairs or at fly fishing fairs at home and abroad such as in Germany, Belgium, Austria, and France.
In order to further improve my casting and didactic skills, I prepared myself for two years with courses at home and abroad for the examination at the American Fly Fishing International, the worldwide umbrella organisation of fly fishermen "F.F.I. America". So, on 16.07.2011, I successfully passed the exam to become a F.F.I. Fly Casting Instructor with the Master-Fly Casting-Instructors (MCI) Uwe Kaptein and Juergen Friesenhahn in Dortmund.
Now the dream of my own fly fishing school (Easy Fly Fishing) came true, in which I will pass on the knowledge about this wonderful hobby.
Since 2008 I have been working for Paul van de Sande's company "Fly Scene" in the "Pro Team".
Since 2018 I am a member of the "World Vision Pro Team", it is a great honour for me to present this world-famous brand and to contribute my experience to the development of new products.
On 05.10.2018, I was able to set another milestone in my fly fishing life in Graz/Deutschlandberg. After three years of preparation with courses in Austria with Bernd Wiesbauer and in Switzerland with Thomas Luescher and Christopher Rownes, I was able to successfully pass my MCI exam with examiners Sakhar Bahadur, Thomas Luescher, Bryan Martin, and Pat O'Tool.
"The path is the goal"