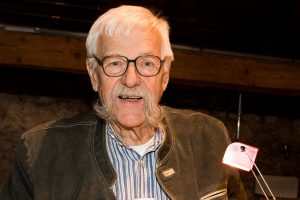 He lives in Witten an der Ruhr where his fishing career began.
When he began fly fishing, there were no schools and no magazines for the sport. He is self-taught in all facets of fly fishing.
He has successfully competed in many international fly tying competitions (in, among the most important, Slovenia; Quebec, Canada; and Sawada, Japan). He has been invited as a fly tyer for nearly all large shows in Europe where he has been able to demonstrate his newest tying creations.
His preference for CDC flies arose when he met, in Slovenia in 1990, Marjan Fratnik who explained and demonstrated the advantages of CDC flies.
A number of Gerd-Peter's flies are exhibited in various angling museums (Munich's Hunting and Fishing Museum, the Cushner Museum in Florence, Oregon, the Elvereum Museum in Norway, Wiesbaden's Natural History Museum, and at the Homburg Palace near Nümbrecht). A number of his flies have also found their way into publication ("Tying & Fishing the Nymph" by Taff Price).
Gerd-Peter has written articles for various publications in Europe (Der Fliegenfischer, Fly Only, Flugfiske in Norden, FliegenFischen, and Fisch & Fliege).
For the bibliophile edition published on the occasion of the 200th birthday of John Horrocks, he tied a reproduction of the Horrocks Fly (shown on page 49).
For the "Illustrated Handbook of Angling" by Max von dem Borne (the revised 20th anniversary edition, page XLVII), he tied a reproduction of the black bass Count Max No. 268 fly from Mary Orvis' 1892 book.
For 16 years, Gerd-Peter organized and supervised the fly fishing stand at the Dortmund Show (the largest fishing show in Europe). His good connections made it possible for him to repeatedly have internationally recognized fly tyers at the stand. In 2007 he passed the organizing to younger hands, but he is still invited to the show and his advice is still sought after.
In 2007, Gerd-Peter founded the German Fly Tying Championship which is now in its 16th successful year.
Gerd-Peter doesn't only tie flies. For almost 40 years he has been making his own split-cane fly rods. His path to becoming a rod maker was not easy because he is not fluent in English. He could not read and analyze the available literature about rod making.
He was the first to offer a split-cane rod-making course in Germany and that was through the Dick Fine Tools company.
He has always been glad to pass on his knowledge and abilities to young, enthusiastic fly fishers.
He used the two years of the pandemic to write a book with Peter Schmidt – "Fliegenfischen: Geschichten aus 2000 Jahren Flugangeln" ("Fly Fishing: Stories from 2000 Years of Fly Fishing"), ISBN: 9783275022472. He will tie the fly patterns presented there according to the old tying recipes, on old hooks and similar to the historical patterns.