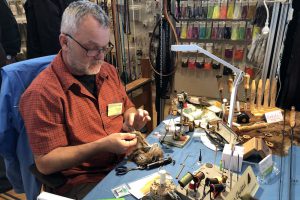 Georg Christel was born in 1958 near the Reichen Ebrach where he fished already at age 6 with his father. In 2002, he came to fly fishing through building his own rods and has fished only with a fly since then.
"It became his great passion."
Shortly thereafter, he began tying his own flies.
The results have been:
Three first places in the second German Open Fly Tying Championship in 2009

Two second places in 2010

Overall champion at the 2010 Slovenian Open

Again in 2011 overall champion in Slovenia

He received a bronze medal at the Mustad-Skandinavian-Open in 2012.
He has demonstrated fly tying often at various shows and events since 2009 and also gives tying and casting lessons.
For some years now, he has been making super-realistic life-size fish models out of lime wood, which are coloured true-to-life using airbrush and other techniques.