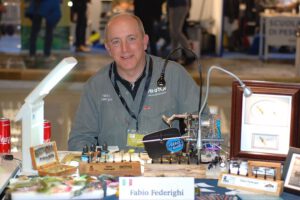 Hi everyone, I am Fabio Federighi and I live in Florence in Tuscany.
I like tying flies in various styles, with different techniques, and for various species of fish, such as freshwater, saltwater, salmon and sea trout, but also like to tie hyperrealistic flies.
I fish all over the world and tie flies together with many friends and fishermen at many fly fishing events.
I am part of the pro teams of Ahrex Hooks, Swiss CDC, and Fly Fish Europe.
I have written a fly tying manual and numerous articles in trade magazines and my flies can be found in many international books. In Italy, I organise the "Italian Fly Tying Show" during the European Outdoor Show in Verona.