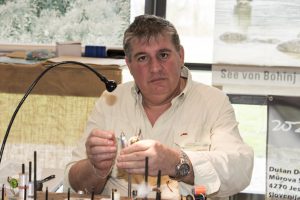 I discovered my interest for fishing at the age of ten at the Kranj Fishing Club. Now I am a passionate flyfisher and a member of two fishing clubs: FV Bled and FV Jesenice.
Every year I take part in the Slovenian Fly-Tying Championship and other international fly-tying competitions and I have placed as follows:
• 1st Place – Category Realistic flies at the Kroatian Championship 2003
• 3rd Place – Category Streamer, International Slovenian Championship 1998
• 1st Place – Category Realistic flies, International Slovenian Championship 2000 and 2004
I have been a professional fly tyer for 9 years.
For the last 18 years I have organized, with my friend Matej, the youth fly-fishing camp of FV Bled where I can pass on all my knowledge to the young people participating.
In addition to Slovenia, I also fly fish in Kroatia and Bosnia.
At the Bending Feathers, I will tie flies especially suited to these waters.
Visit me at my tying bench – I will be very happy to meet you!