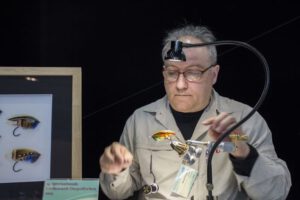 My name is Bruno Pimpanini. I am a product designer living in Paris, France.
I was introduced to fly fishing 20 years ago. Day after day I then began to tie trout flies, and fly tying achieved eventually became much more significant than fishing.
For a number of years, the Paris Fly Fair has organized a meeting with tiers of different nationalities, some of them tying classic and artistic salmon flies.
I found them very enthusiastic about their efforts and discovered a special and attractive world. My meeting with Jean Paul Dessaigne reinforced my first impressions. He introduced me to the specifics and techniques of tying traditional salmon flies and he passed on his enthusiasm to me, meeting after meeting.
Today tying classic salmon flies has become a true passion for me. Discovering the history of certain patterns and famous tyers, gaining knowledge about rare feathers and their characteristics, and the perpetual search for perfection means I devote much time to this discipline that I regard as an art.
My wish is to continue tying classic flies and to progress, learn and communicate, and meet other tiers. The fly tier "family" is for me a real human enrichment.